News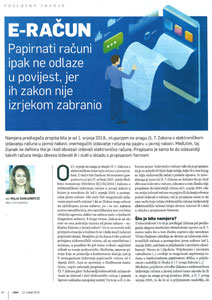 12.7.2019.
Maja Damjanović: E-račun - papiranti računi ne odlaze u povijest, jer ih zakon nije izrjekom zabranio (PDF 1MB)
Namjera predlagača propisa bila je od 1. srpnja 2019., stupanjem na snagu čl. 7. Zakona o elektroničkom izdavanju računa u javnoj nabavi, onemogućiti izdavanje računa na papiru u javnoj nabavi. Međutim, taj članak ne definira tko je i kad je obvezan izdavati elektroničke račune. Propisano je samo to da izdavatelj takvih računa imaju obvezu izdavati ih u skladu s propisanom formom.
Sigma Tax Consulting is not just a tax consulting company. Our commitment to the industry is to innovate and lead, bringing new value to our clients and the important work that they do.
Hrvoje Zgombić
Partner